Red Sea Wrecks, the Kingston
The Kingston, a reef in a wreck
Red Sea Shipwrecks, Story of the Kingston
For years, dive boats operating in southern Sinai took their divers to the Danabaa reef, also called Shag Rock, located a short distance from where the SS Thistlegorm lies. The plan was to visit the remains of another red sea wreck, the labeled "Sara H", which was later simply reduced to "Sarah".
It was not until 1996 when Peter Collings, the well-known British wreck diver, obtained enough information to correctly identify her and return her real name, "KINGSTON".
The Kingston was built in 1971 on the banks of the Wear River, in the Oswald shipyards, Sunderland. She was commissioned by the Commercial Steamship Company. Like the Carnatic, Ulysses, and other ships of the time, the Kingston was a hybrid of sailing and steam, measured  262 feet long, and weighed 1,449 tons. The engine, whose model only ten units were manufactured, endowed her with a cruising speed of 10 knots.
Like other contemporary ships, she was prepared to transport both cargo and passengers, although in this case, her main task was the transport of coal.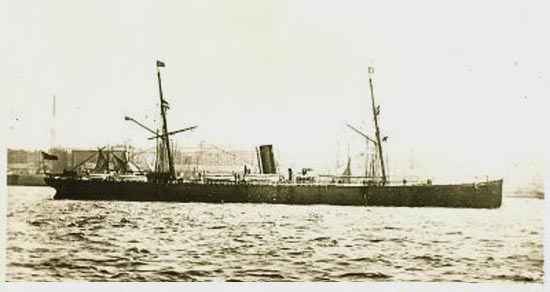 The Final voyage
The Kingston left Cardiff on the 28th of January 1881 bound for Aden with a crew of 25 and 1,740 tons of coal. On the 16th of February, she crossed the Suez Canal at 9 in the morning, and a few hours later, at 11:50 p.m. in calm sea conditions, she struck Shag Rock Reef at 9 knots speed.
On the 18th the ship "Columbian" attempted rescue after more than 70 tons of coal had been jettisoned but was unable to help the Kingston. That same afternoon, the ship begins to make water and on the 19th the captain gives the order to abandon her. 16 of the crew were then picked up by the ship "Almora" and 8 others and the captain remained on board, making unsuccessful attempts to save the ship. Finally, on the 20th the Kingston sinks, and the survivors are picked up 4 days later by the "Strathmore" on the island of Gubal, to where they had arrived in one of the auxiliary boats and were transferred to Suez.
Diving Kingston Wreck
Currently, the Kingston is one of the favorite dives for underwater photographers in the South Sinai area. When the conditions are favorable and the current is not strong, the impressive coral garden she is sitting in, the number of corals that have colonized her, the maximum depth of the place (17 meters), and the amount of sea life around the wreck, make of this site a dive into history not easy to forget …
would you like to go there?
Visit our Egyptian Red Sea section