Do you like the type of scuba diving adventure that takes you beyond the regular or "classic" style safari?
Then we can offer you an intense expeditionary cruise to the far south of Sudan!
Here we will explore the more remote reefs, reaching the very border with Eritrea.
By extending the usual seven nights voyage up to ten or eleven nights, we allow you to visit the wreck of the Umbria, the Archipelago of Suakin and the more remote reefs in the Extreme South of Sudan.
We will explore the pristine coral reefs with its abundant and varied marine life.
We will search for sharks in these waters, grey reef shark, white tip, hammerhead and with luck tiger shark and whale shark. Also we will enjoy in the shallower waters with its colourful soft corals, huge fan corals and giant schools of pelagic fish, turtles, and much more!
10 nights

EMBARKATION

Port Sudan

DISEMBARKATION

Port Sudan
FIND AND BOOK YOUR CRUISE
Day 1: PORT SUDAN: Upon arrival, immigration and baggage claim. Transfer to the port of Port Sudan. Boarding, welcome cocktail and presentation of the RED SEA BLUE FORCE 3 and the crew. Distribution of cabins.
At the beginning of the cruise.
Intermediate Days (according to duration of the cruise): diving cruise route to "Extreme South"Diving cruise with full board and daily plan of 3 – 4 dives per day. Diving areas according to the itinerary chosen.
Last day: PORT SUDAN: Arrival to Port Sudan and transfer to the airport.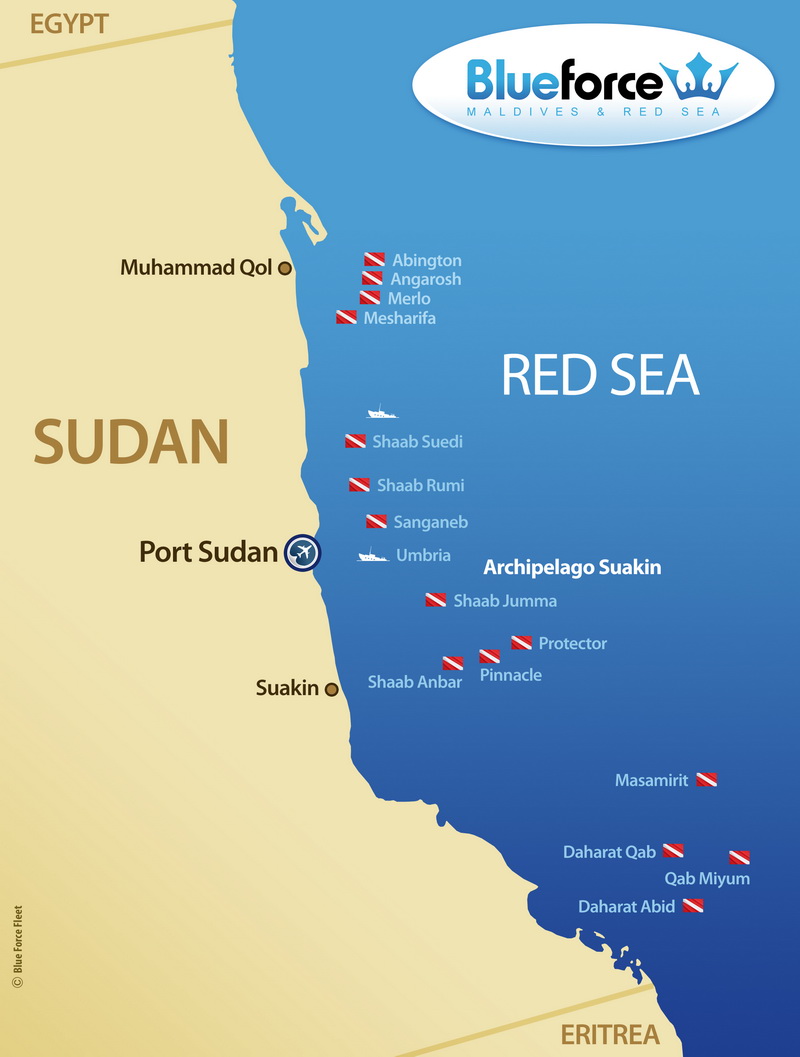 One of the best wrecks in the world that scuttled by her captain at the beginning of the Second World War. It Still preserves almost intact its military cargo and hosts a large number of marine life.
The wreck is easy to dive, with a depth ranging between 5 to 33 meters and a virtual absence of currents.
The exploration of the wreck represents a real adventure for divers as so much of the cargo and structure of the ship remains intact.
Its length is 150 metres and is covered with soft and hard corals, sponges and anemones.
Around the wreck an abundance of exceptional marine life of crustaceans, crinoids, Spanish dancers, clown fish, snappers, sweet lips, butterflies and barracudas.
For lovers of photography, special attention to the backlight through the eyes of ox and to the starboard propeller that just 18 meters depth offers great opportunities for good images.
Suakin archipelago is located in the southern area of Port Sudan. It is composed of hundreds of islets and coral reefs.  Among the various points of this archipelago: Sha'ab Amber, Sha'ab Jumna, Pinnacle, Logan, Seil'Ada, Hindi Gider, Protector and Preserver Reef.
Is the reef located more to the north of Suakin. It has a length of more than 5 miles and offers some openings to an interior lagoon that offer an excellent refuge to the ships. It is easy to find hammerhead sharks, grey reef and white tip and occasionally, silver tip.
At its outer wall, to a depth of 30 meters, there is a large cavity that offers excellent views of the outer wall with resident sharks, tuna and carangids.
Long Reef located 8 miles south of Sha'ab Jumna. Also offers an interior lagoon that gives shelter to the ships. In the southern area of the reef is a sandy platformat 25 meters, ideal to enjoy encounters with hammerhead sharks, grey sharks.
Located 9 miles south of Sha'ab Jumna, this reef takes the form of a pinnacle that rises from the depths. It offers a rich and varied concentration of reef fish in the areas most influenced by the currents. are frequent encounters with hammerhead sharks, grey, silver, silky and threshers.
Reef located 18 miles east of Sha'ab Amber. Its 2 miles long around a large lagoon. Its southern side offers dives to depths of 20 meters full of corals and abundant coral reef life. In the deep waters of the outer wall of the southern tip, it is easy to find hammerhead sharks, silky sharks and manta Rays.
Reef located 7 miles east of Sha'ab Amber. The north face is the one that offers the greatest chance of encounters with hammerhead sharks, silky, white tip and grey reef and large groups of bumphead parrot fish.
The east and west sides of the reef are home to a wide variety of corals and gorgonians.
Located 6 miles SE of Sha'ab Amber. Also known as the island of turtles.
At the northern tip of the island, the reef drops to 20 meters where you will find a sandy platform with a high concentration of fish and within the limits of the platform patrol grey sharks and white tip.
Has a vertical wall on its east side and a platform in its northern part to 25-30 meters with several blocks of reefs that serve as an observatory for pelagic species that surround its waters.
It is easy to find some groups of dolphins, schools of barracuda and hammerhead sharks. The SE side (Karam Masamirit) have deeper walls where we can find sharks, napoleons, carangids and tuna
Located 14 miles south of Masamirit. Has a good reef with a great variety of soft corals and sea fans. The southern end of the reef is the most interesting point where you can observe grey sharks, silver tip, hammers and occasionally you can see tiger shark.
Located in the south of Masamirit, presents in its southern tip a stepped wall with platforms to 6, 25 and 45 meters that allow visitors to observe the large schools of carangids and barracudas that pass through them as the hammerhead sharks often patrol the boundaries of the wall.
Is the southernmost island of the sudanese waters. In the top of the reef there are the remains of a wreck abundant with life. The shallower waters of the reef are covered with soft corals and in deeper waters, the pelagic fishes and sharks are the main attractions.
Included
Assistance at the airport in Port Sudan.
Transfers airport/port/airport.
10 nights diving cruise in double cabin sharing aboard the RED SEA BLUE FORCE 3,
Full board and water.
Plan dives depending on route.
Air, S80 tank and weights.
Dive Guides.
Travel, scuba diving and cancellation insurance. (see conditions www.blueforcefleet.com).
Not included
Flights.
Tourist Visa of Sudan: 155$ (pay to enter the country) US citizens 205$.
Payments on board: Sudan, ports and marine park fees: 285€. Service Tax: 100€.
Soft and alcoholic drinks.
Possible supplements by extraordinary price increases of local taxes, fuel or devaluation of the currency.

Optional price per week:

NITROX:
For S80 tanks: 40€
For S100 tanks: 60€
Rental equipment:
Tank S100: 30€
Extra tank S80: 30 €
2 tanks S80 with opposed valves for Sidemount: 60€ (necessary to book in advance in order to ensure the availability)
Important
Important: Cruise only recommended for advanced divers and with some experience.