Quite an unusual route due to its remoteness, but still highly recommended for its biodiversity and rarity.
What kind of places will we visit on this route
We will visit Zabargad Island with its mysterious Russian wreck, its spectacular coral garden & the impressive soft coral walls of the Rocky Island where there is a high possibility to find pelagic fish. Besides, we will visit the sunken Habilis with its exuberant life where much pelagic fish move close to feed themselves, the pinnacle marine of the awesome caves in Umm Hararim & the incredible reefs of Claudio, Malahi & Shaab Maksour.
If you would like to see all our routes in Egypt, be sure to click on this link.
7 nights

EMBARKATION

Port Ghaleb

DISEMBARKATION

Port Ghaleb
FIND AND BOOK YOUR CRUISE
Day 1 (Saturday) Hurghada / Port Ghaleb: Arrival and assistance at the airport of Hurghada. Luggage pick-up. At the indicated time, transfer to the port of Port Ghaleb by car. Board in the RED SEA BLUE FORCE 3, welcome cocktail and presentation of the boat and crew. Distribution of cabins. Overnight on board.
Day 2º to 7º (Sunday to Friday) DIVING CRUISE "DAEDALUS, ZABARGAD, ROCKY, ST JOHNS" ROUTE: diving cruise on a full board basis (including water. 3 meals) and daily plan of dives. The most prominent diving points will be Daedalus, Zabargad, Rocky Island, Habili Ali, Umm Hararin, Gota Soghiera, Abu Bassala, Umm Arouck. (Due to the outer island's regulation night dives are forbidden).
Friday afternoon/evening, arrival at port. Dinner and overnight on board.
Day 8 (Saturday) PORT GHALEB: Disembark in Port Ghaleb. Transfer to the hotel in Hurghada by car. Day of rest to remove residual nitrogen. Free time to enjoy the local environment, shopping and/or optional tours in the area. Dinner and overnight at the hotel
Day 9 (Sunday) Hurghada: at the scheduled time, transfer to the airport.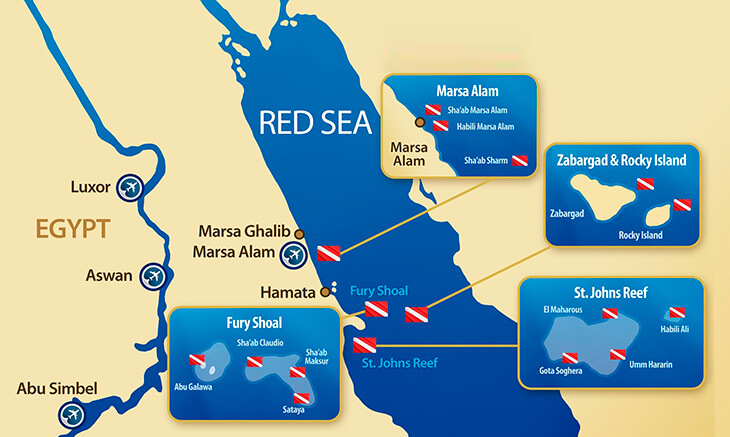 The dive sites at Rocky Island have walls fully covered with hard and soft corals and a large concentration of anthias and napoleon wrasses. The southern area of the island offers the chance to spot grey reef sharks and white tip reef sharks while on the north wall, we can occasionally find hammerhead sharks.
One of the smallest reefs of St. Johns. It is formed by impressive vertical walls completely covered with soft corals and black coral trees. At this dive site, we will find big groups of snappers and jackfish, grey reef sharks, white tip sharks, and silvertip sharks. During the summer, it is common to find Manta birostris.
Ali is the largest of the habilis in the area. A habili is a submerged reef that reaches 3 or 4 meters below the surface, so it is not an adult reef (habili means not born). In its vertical walls, there are a large number of black corals and soft corals. In the western part there is a forest of large gorgonians. The dives here tend to be deep (30 – 35 m) and swept with currents. Common sightings of sharks in this site include whitetips, grey reef sharks, hammerheads and sometimes silky sharks.
This is a very shallow reef, full of spectacular corridors and caves with an open topside, it is even more impressive than the caves of Claudio. Few animals, except for several large napoleons are to be seen here. We will also enjoy the impressive garden of porites in the north wall.
Included
Assistance in the Hurghada Airport.
Diving Cruise (Double Cabin sharing) in full board, water, coffee and tea and planned route to board the RED SEA BLUE FORCE 3.
Diving Program, air, S80 tank and weights.
Dive guide from BLUE FORCE team.
Travel insurance, scuba diving and cancellation policy (see conditions www.blueforcefleet.com)
1 night at hotel 5* in Hurghada in half board.
Transfers indicated in the program in accordance with scheduled planning.
Not included
Flight to Egypt
Touristic visa in Egypt.
Fuel taxes: 70 € (for cruises departing between 1 August and 31 December 2022).
Route and port taxes: 140 € (payment onboard).
Service Tax: 70 € (payment onboard).
Drinks and lunch at the hotel in Hurghada and soft drinks and alcoholic drinks onboard.
Optional price per week:

Rental equipment:
Tank S100: 30€
Extra tank S80: 30 €
2 tanks S80 with opposed valves for Sidemount: 60€ (necessary to book in advance in order to ensure the availability)

Extraordinary possible increases of fuel, taxes or local taxes.